Skip to product information
Slab Calculator
Calculate the amount of slabs you need by entering the dimensions of your floor to be covered into our Slab Calculator.
Use Calculator
Joint-IT Jointing Compound (Bulk Tub - 20KG)
Effortlessly lay down this sweep-in Joint-It Simple paving grout quicker and easier than most other jointing compounds. Available in three colours to match your patio, this grout will last a lot longer than other traditional grouts and mortars. Joint-It Simple is suitable for all paving types and loved by professionals and homeowners alike.
SALE! - Joint-IT Neutral 20KG (For Purchase Only At The Same Time As Paving Pack)
£37.50/pack
SALE! - Joint-IT Grey 20KG (For Purchase Only At The Same Time As Paving Pack)
£37.50/pack
Joint-IT Dark Grey 20KG (For Purchase Only At The Same Time As Paving Pack)
£39.99/pack
Joint-IT Black 20KG (For Purchase Only At The Same Time As Paving Pack)
£39.99/pack
Payment options
Paypal
Apple Pay
Delivery
Free standard delivery (3-5 working days)
Express delivery (1-2 working days): £15 per pack
Description

Joint-It Simple was made by the professionals with other professionals in mind. All you need is a hard and soft brush and some water along to use along with it.

Purchase your Joint-It Simple paving grout with an order of paving slabs for a discounted price. With free UK delivery and VAT included, that is the lowest price on the Internet where you can buy Joint-It Simple — with the Neutral (20kg) colour costing as little as £39.99 in our current sale!


We stock 20kg buckets because they represent the best value for money. If you have some grout left over, simply place it back in the bucket with some clean water over it. It will then last for about 3 months. 

 

Key features:

Covers approx. 13-18m

2

(depending on the joint size)

Cement-free, stain-free formulation 

Use straight from the tub — no mixing, just open and use

Designed for use in all weather conditions

Easy to use — simply pour and wet with a hose and sweep into joints

Suitable for sandstone, granite, limestone, slate, Yorkshire and porcelain 

Ready to use on paving slabs and cobbles/setts 

It can be walked on 24 hours after application 

Frost resistant 

Stops weeds from growing 
Pack Information

Basic Information

Application Time

At +15 degrees, Joint-It Simple will take approximately 30 minutes to apply. Lower temperatures will result in slower hardening and higher temperatures will result in quicker hardening.

Once Opened

Joint-It Simple must be used within four hours of opening the tub.

Below 0 degrees

If the temperature is forecast to drop below 0 degrees within 12 hours of application, we recommend you postpone application until the weather is a bit warmer.

Ready-to-walk-on

Surface can be walked on approximately 24 hours after application at temperatures of approx. 20 degrees.

Power-washing

Keep pressure washers away from paving for at least 28 days after application. If you need to power-wash the area, keep the nozzle 30cm away from paving.

Storage

Store Joint-It Simple in a cool, dry place. Protect tub from punctures or piercing. Any exposure to air will start to harden the product.

Shelf-Life

Joint-It Simple has a minimum shelf-life of 12 months when stored in unopened containers, as specified above.

Safety Information

For full safety information, click here to read our 'Material Safety Data Sheet' or feel free to contact us with any questions you may have.

Prep-like-a-Pro

All-Weather Application

Joint-It Simple can be applied in all-weather conditions. However, we don't recommend you use the product when temperatures are forecast to drop below 0 degrees Celsius within 12 hours of application.

Laying Paving

Paving must not be laid on soil as the paving will sink and Joint-It Simple will crack out.

We recommend that you lay paving on a semi-dry bed of sharp sand and cement, approx. 35-50mm deep.

For pedestrian and patio areas, we recommend using 6 parts sharp sand and 1 part cement.

We do not recommend the dot & dab method when laying paving because over time the paving will rock, crack and move, and the jointing compound will crack out of the joints.

Clearing Joints

We recommend that all joints are cleaned out to a minimum depth of 20mm and a width of at least 3mm but wider and deeper joints are totally acceptable.

Make sure all joints, and the area to be jointed, are clear of any dirt, oil, grease and debris before you start the job.

For more information about laying a patio visit 'The Paving Expert' Tony McCormack.
Delivery information

Deliveries are made using an 18ton lorry with a tail lift. This requires a solid, concrete or tarmac flat surface for the offload. Deliveries are kerbside only, although the drivers will usually attempt to place on the driveway if possible. We cannot deliver onto a slope. Flat gravel driveways would require sheets of plywood for the wheels of the manual pallet truck to roll on. Hiab deliveries may be possible in and around London, providing a crane offload onto most surfaces.

Please ensure someone is available to sign for the delivery, otherwise you will be liable for a £30 re-delivery charge per pack if the goods are unable to be left.

Whilst every effort is made for your delivery to arrive on the day specified, it is not possible to guarantee the delivery date as we use a third party pallet network for our deliveries. Due to higher rates of driver shortages than usual, we currently advise allowing an additional day or two on top of the specified timeframes, in case of delays.

We offer standard 3-5 working day delivery or optional express 1-2 working day delivery for £15 per pack on checkout.

*Standard delivery is included for delivery to most postcodes within mainland GB apart from the following postcodes:

     £30 surcharge per pack for delivery to: AB, DD, FK(8-9, 11-21), IV, KW, KY6+, PA, PH, TR, PO30-41

     £10 surcharge per pack for delivery to: DT, TA, EX, TQ, PL, SA, LD, LL, SY(10-11, 15-25), DG, TD, KA, ML, EH, G, FK, KY, PA.

Whilst our carriers will always make every effort to deliver the products on the agreed delivery date we can not be held responsible for matters beyond our control that results in your products not arriving on the day in question. Please do not book builders or hire equipment for the day of delivery in case of a delayed delivery.  

Infinitepaving Ltd will be in no way liable to you for any loss, damage or expenses, either indirect or consequential, resulting out of the above situations or from the use of products purchased by you on Infinitepaving Ltd.
Returns and Refund information

We will happily issue a refund for any product purchased from Infinite Paving, providing we are notified within 30 days of the delivery date, and subject to the following conditions:

- the product must be returned unused and as new, in saleable condition, and in the original product packaging. Returns can only be collected if the pallets are on a concrete flat surface, or were delivered with a crane.

- you will receive a full refund of the amount paid less £150 per pack to cover the original delivery and return charges. Due to the nature of stone, being a product with natural variations between batches, returns based on colour are still be subject to the £150 per pack delivery and collection charge.

Damages

Whilst every effort is made to get the stone to you in perfect condition, we include an allowance of up to 2 damaged slabs per pack into the price, as an average over your order. We always use the 2 smallest damaged slabs against the allowance.

We will issue a refund for any amount above 2 damaged slabs per pack upon provision of photos showing the damaged slabs, received within 7 days of receipt of goods. It is generally advisable to allow an additional 5%-10% leeway on the amount ordered for damages or cuts or the odd slab you may not like.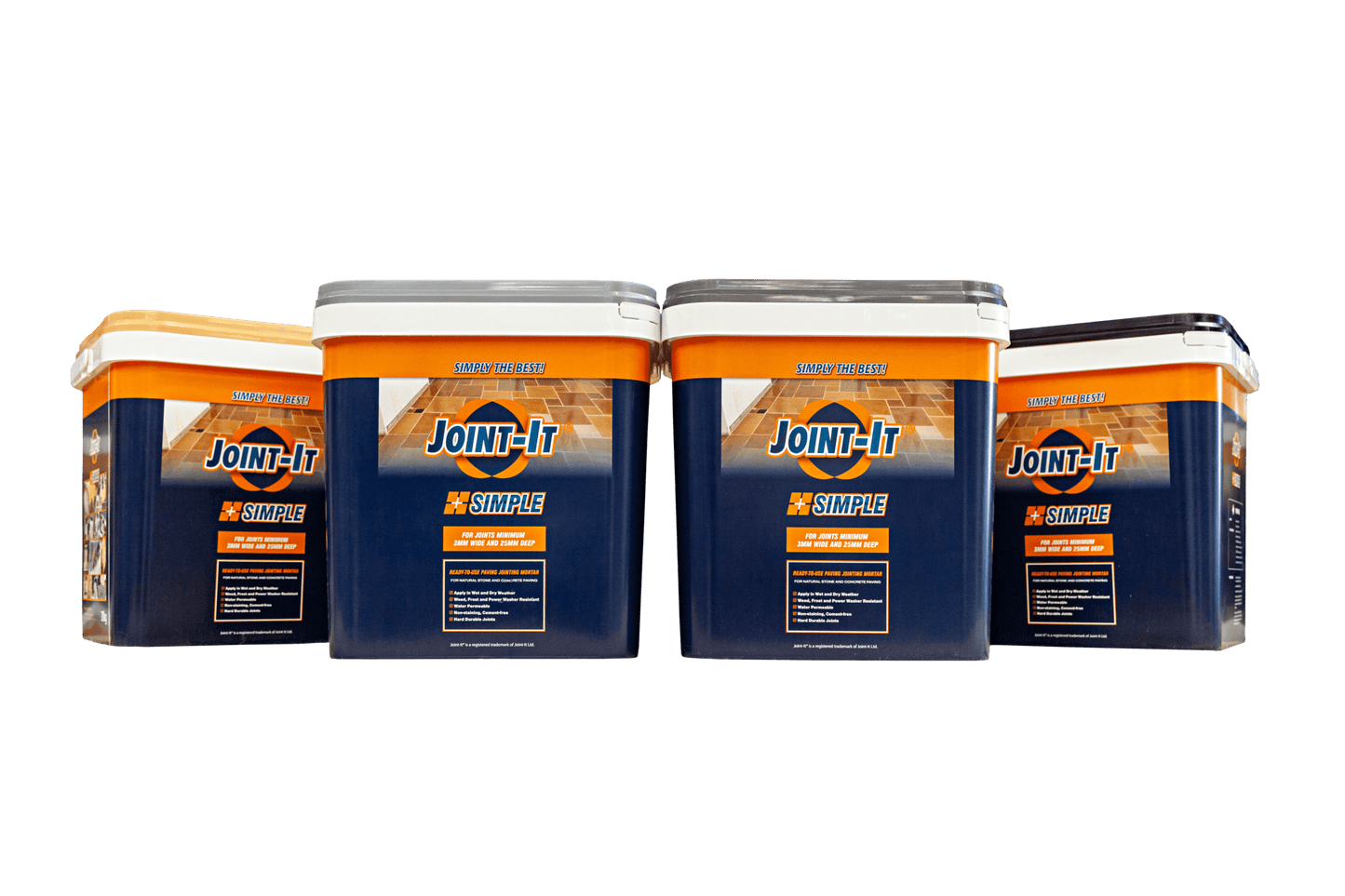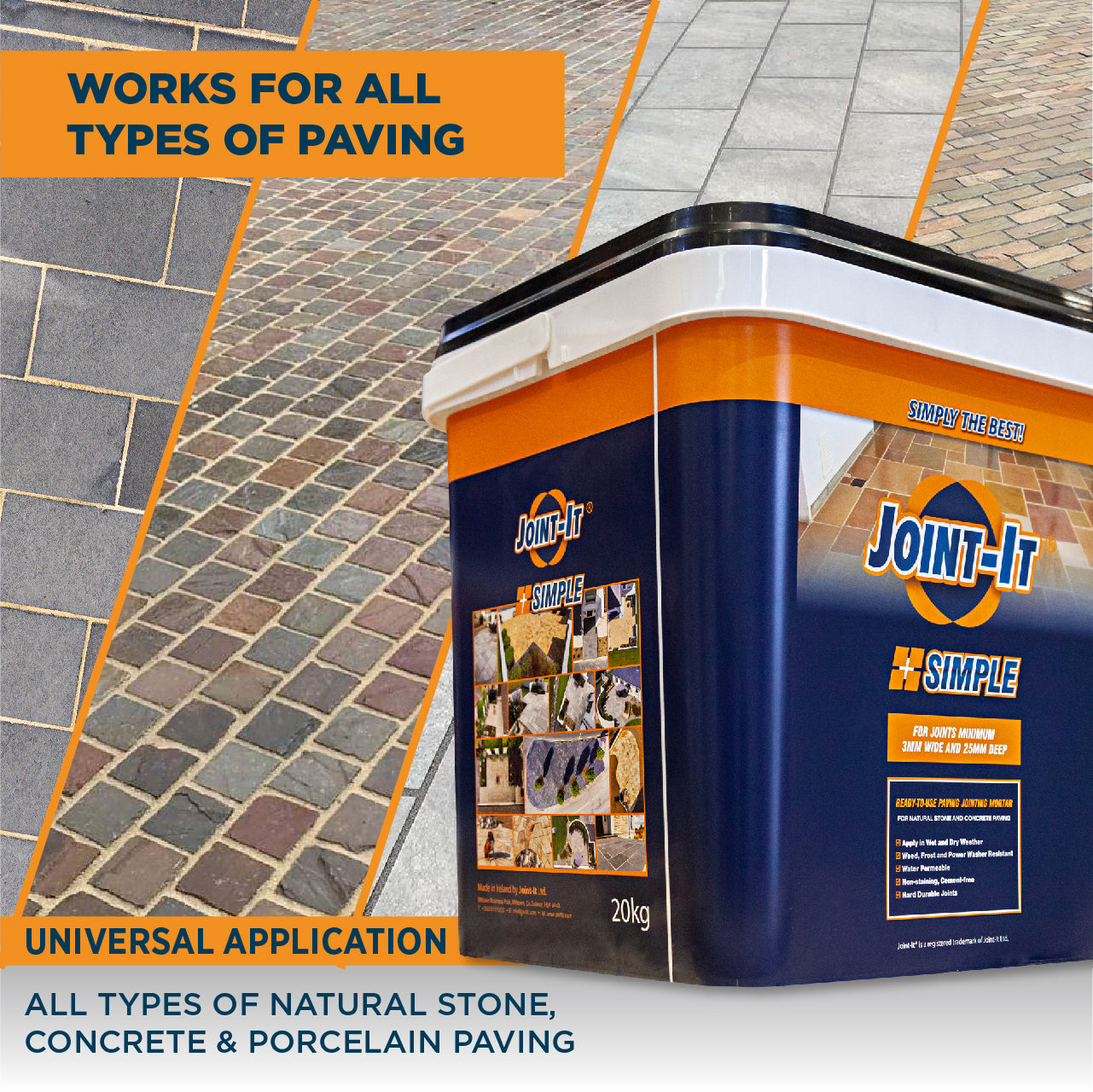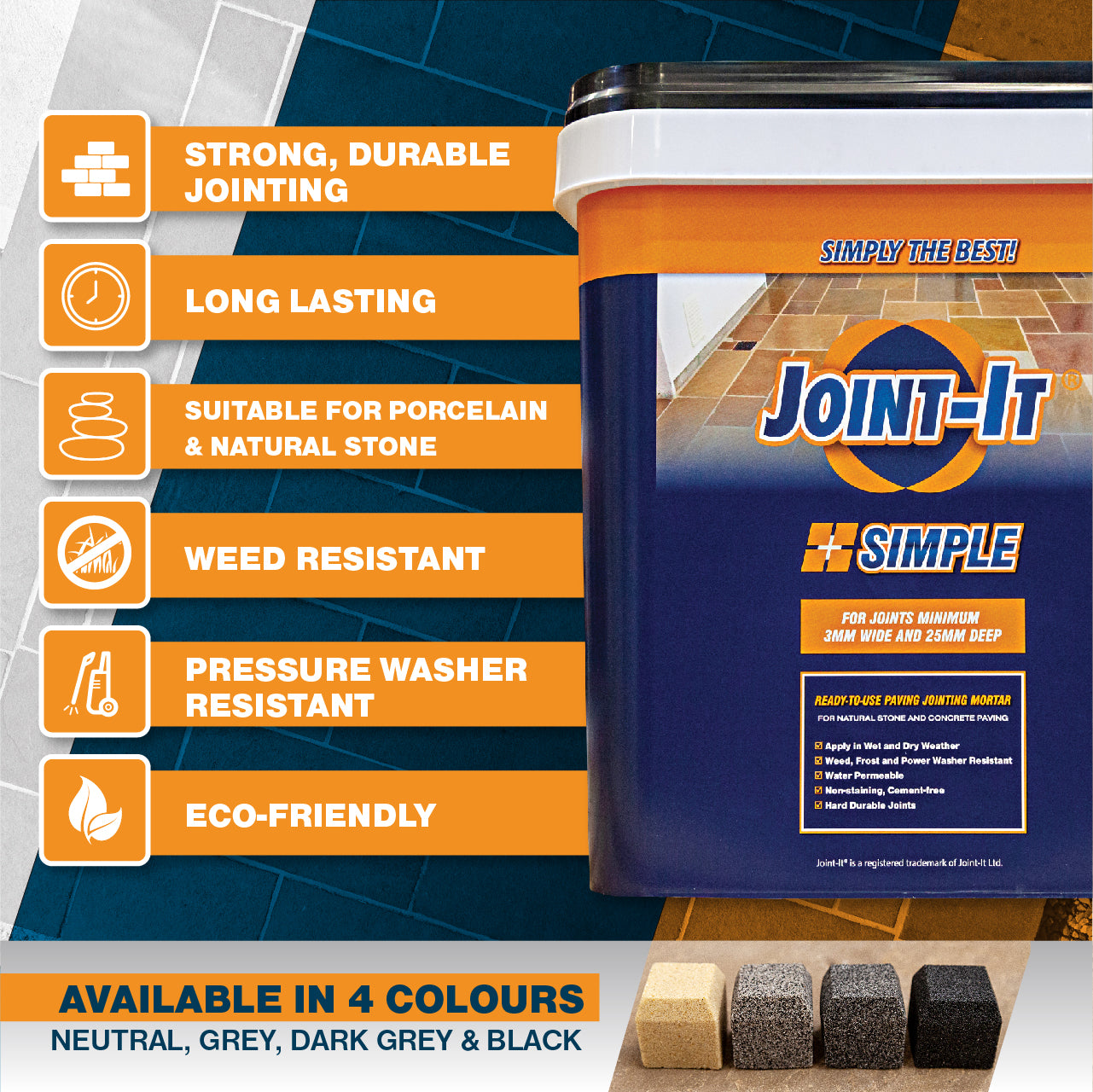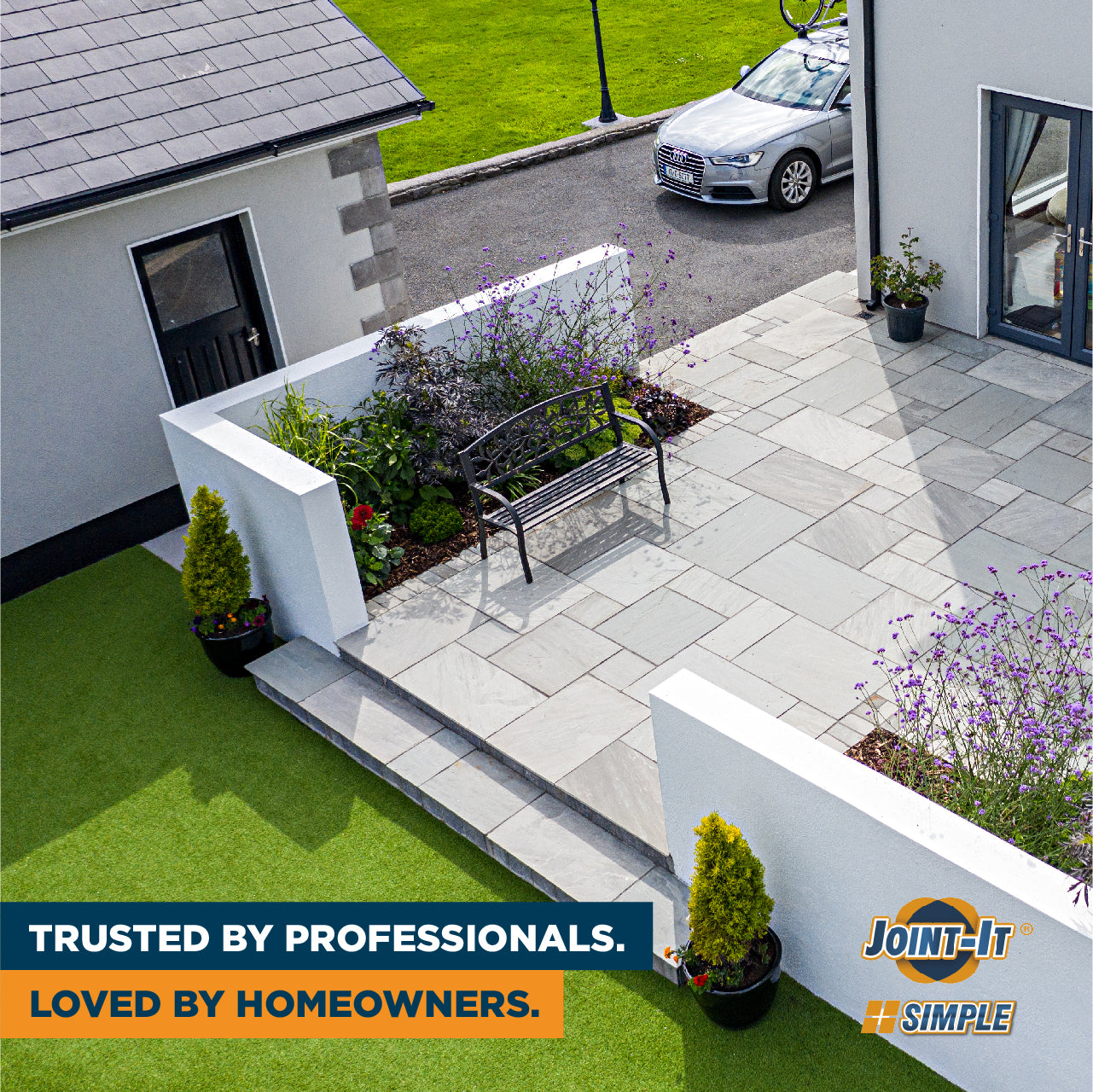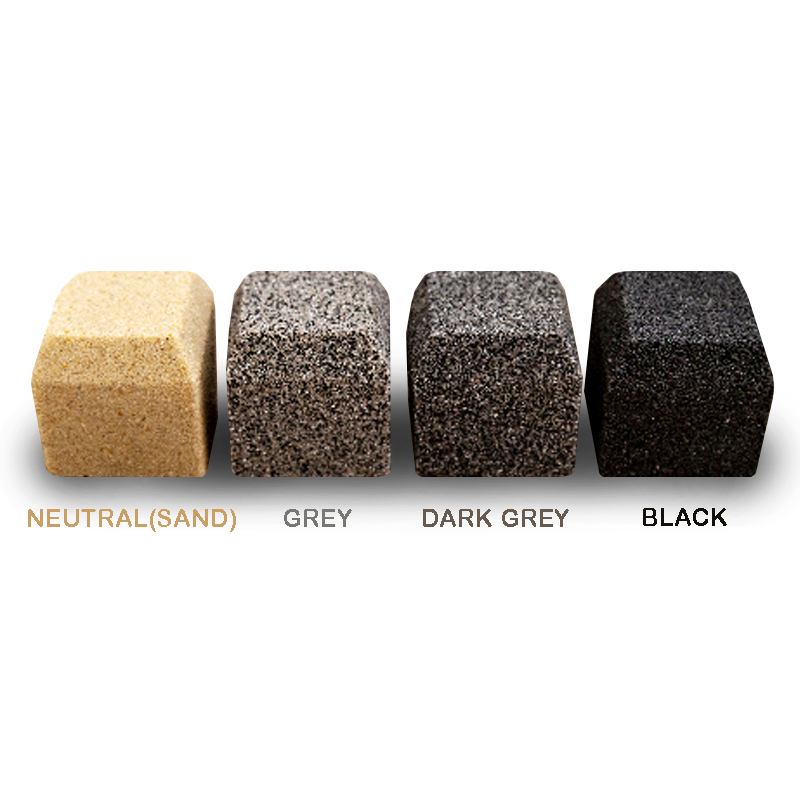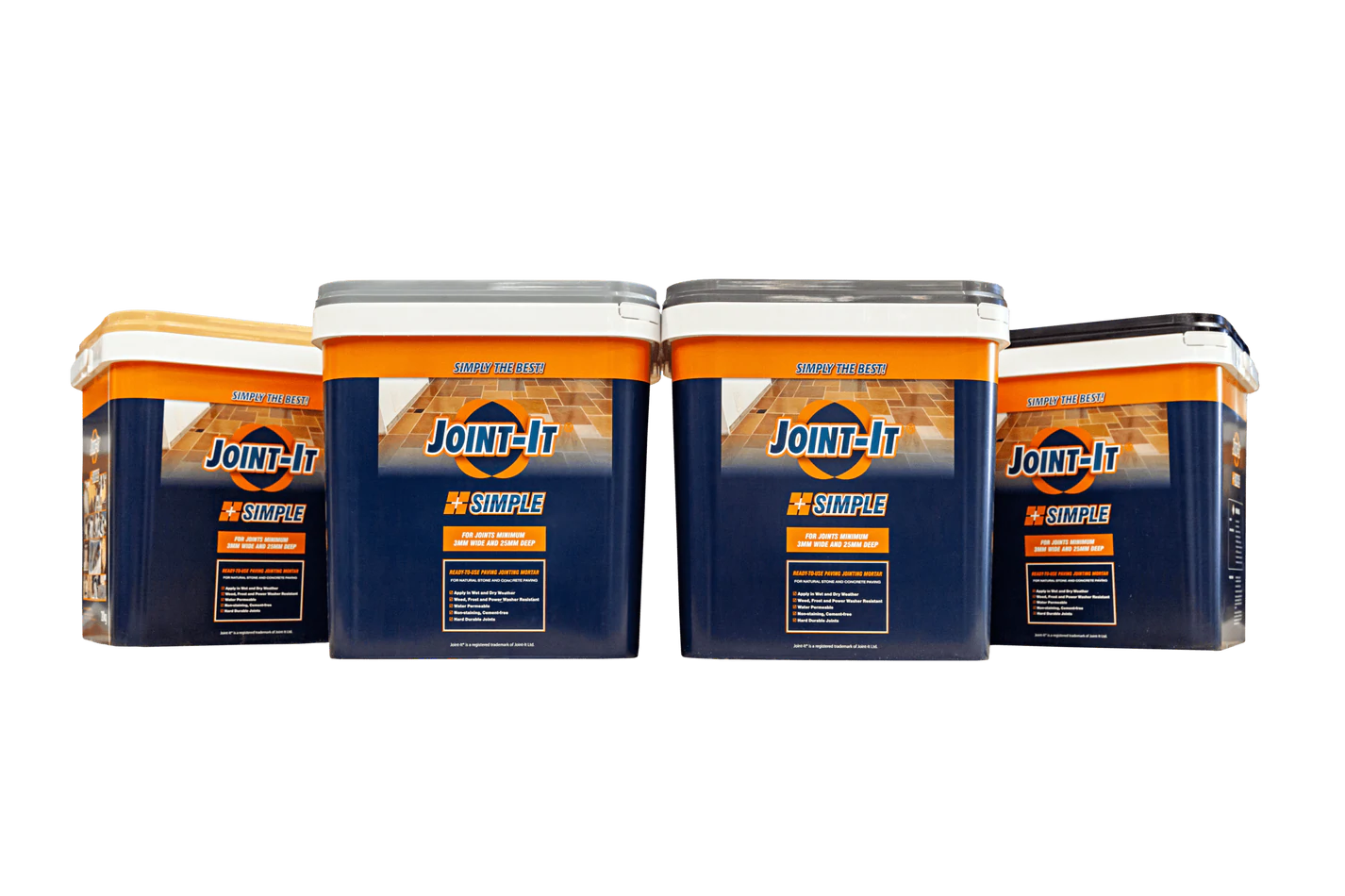 Jointing Compound
Designed for use in all weathers, replaces traditional mortars and grouts with a more modern and efficient product. Available in neutral, grey and dark grey to give you the perfect look.
Add to your order