Skip to product information
Slab Calculator
Calculate the amount of slabs you need by entering the dimensions of your floor to be covered into our Slab Calculator.
Use Calculator
Autumn Brown Indian Sandstone Paving Slabs
Full packs only
Mixed Size, 22m² Patio Pack 18mm Calibrated
£341.00/pack
£15.50/m²
Mixed Size, 18.9m² Patio Pack 22mm Calibrated
£325.00/pack
£17.20/m²
Mixed Size, 14.7m² Patio Pack 30mm Calibrated
£315.00/pack
£21.43/m²
Mixed Size, 18.9m² Patio Pack 22mm Calibrated Sawn Edge
£359.00/pack
£18.99/m²
Mixed Size, 18.9m² Patio Pack 22mm Calibrated Antiqued Tumbled
£359.00/pack
£18.99/m²
900x600mm, 18.6m² Single Size Pack 22mm Calibrated
£329.00/pack
£17.69/m²
900x600mm, 18.6m² Single Size Pack 22mm Calibrated Sawn Edge
£359.00/pack
£19.30/m²
900x600mm, 18.6m² Single Size Pack 22mm Calibrated Antique Tumbled
£359.00/pack
£19.30/m²
600x600mm, 18.9m² Single Size Pack 22mm Calibrated
£325.00/pack
£17.20/m²
290x600mm, 19.1m² Single Size Pack 22mm Calibrated
£325.00/pack
£17.02/m²
900x600mm, 12.4m² Single Size Pack 22mm Calibrated
£299.00/pack
£24.11/m²
Payment options
Paypal
Apple Pay
Delivery
Free standard delivery (3-5 working days)
Express delivery (1-2 working days): £15 per pack
Description

Feel the warmth with Autumn Brown Indian sandstone. This gorgeous stone is a natural mosaic of warm light and dark browns with some greys, greens and a golden yellowish-beige. It wouldn't look out of place anywhere. But it carries a timeless charm, making it perfectly suited for old houses, traditional designs and especially rural settings and patios. Autumn Brown is also sometimes known as 'Autumn Blend'. 

This stable and reliable stone is guaranteed to enhance your living space and radiate a feeling of warmth all year round. The colours actually intensify in wet weather for a little cheeriness when it's raining. Autumn Indian sandstone colours are perfect for those more attracted to the reddish overtones of brown, instead of the more typical beige-green and grey features of many other stone types. 

Other great features of Autumn Brown sandstone:

Natural riven surface for an authentic finish

Hand-dressed edges for a natural, organic feel

Hardwearing — ideal for garden patios & paths 

Stunning appearance, wet or dry

Low-maintenance

Well-suited for UK weather 

Livens up large areas that might otherwise look bland

Non-slip, even when its raining 

Robust — once down it will last for decades 


Our Autumn Brown Indian sandstone is hand-split to give a riven surface and is available calibrated, calibrated with sawn edges and antique tumbled.  We've also got mixed patio packs for laying your own experimental designs. 

Our paving slabs are calibrated at different thicknesses ranging from 18 - 35mm (see the individual packs for more information). Being a natural stone, please allow for some minor variance — the ease of laying the stone will not be affected. 

This stone is recommended for exterior use in garden patios, as well as for interior stone flooring.

—
Please note: please note that this is a natural stone made by Mother Nature. No two slabs will look the same, and that is part of what makes it so beautiful. Colours may vary significantly.
Pack Information

18.9m2 Patio Pack (22mm Calibrated & 18-25mm):
16 slabs 900x600mm
15 slabs 600x600mm
15 slabs 290x600mm
15 slabs 290x290mm

14.7m2 Patio Pack (25-35mm):
12 slabs 900x600mm
12 slabs 600x600mm
12 slabs 290x600mm
12 slabs 290x290mm

18.6m2 Single Size Pack 900x600mm (22mm Calibrated):
33 slabs 900x600mm

18.9m2 Single Size Pack 600x600mm (22mm Calibrated):
50 slabs 600x600mm

19.1m2 Single Size Pack 290x600mm (22mm Calibrated):
102 slabs 290x600mm

12.4m2 Single Size Pack 900x600mm (22mm Calibrated):
22 slabs 900x600mm

Coverage indicated when laid with a 15mm joint.

Thickness tolerance +/- 10%.

We recommend adding 10% coverage to allow for any cuts, damages or slabs you might want to select out.

100% natural stone paving slabs, recommended for exterior use in garden patios, paths and driveways, and interior flooring.
Delivery information

Deliveries are made using an 18ton lorry with a tail lift. This requires a solid, concrete or tarmac flat surface for the offload. Deliveries are kerbside only, although the drivers will usually attempt to place on the driveway if possible. We cannot deliver onto a slope. Flat gravel driveways would require sheets of plywood for the wheels of the manual pallet truck to roll on. Hiab deliveries may be possible in and around London, providing a crane offload onto most surfaces.

Please ensure someone is available to sign for the delivery, otherwise you will be liable for a £30 re-delivery charge per pack if the goods are unable to be left.

Whilst every effort is made for your delivery to arrive on the day specified, it is not possible to guarantee the delivery date as we use a third party pallet network for our deliveries. Due to higher rates of driver shortages than usual, we currently advise allowing an additional day or two on top of the specified timeframes, in case of delays.

We offer standard 3-5 working day delivery or optional express 1-2 working day delivery for £15 per pack on checkout.

*Standard delivery is included for delivery to most postcodes within mainland GB apart from the following postcodes:

     £30 surcharge per pack for delivery to: AB, DD, FK(8-9, 11-21), IV, KW, KY6+, PA, PH, TR, PO30-41

     £10 surcharge per pack for delivery to: DT, TA, EX, TQ, PL, SA, LD, LL, SY(10-11, 15-25), DG, TD, KA, ML, EH, G, FK, KY, PA.

Whilst our carriers will always make every effort to deliver the products on the agreed delivery date we can not be held responsible for matters beyond our control that results in your products not arriving on the day in question. Please do not book builders or hire equipment for the day of delivery in case of a delayed delivery.  

Infinitepaving Ltd will be in no way liable to you for any loss, damage or expenses, either indirect or consequential, resulting out of the above situations or from the use of products purchased by you on Infinitepaving Ltd.
Returns and Refund information

We will happily issue a refund for any product purchased from Infinite Paving, providing we are notified within 30 days of the delivery date, and subject to the following conditions:

- the product must be returned unused and as new, in saleable condition, and in the original product packaging. Returns can only be collected if the pallets are on a concrete flat surface, or were delivered with a crane.

- you will receive a full refund of the amount paid less £150 per pack to cover the original delivery and return charges. Due to the nature of stone, being a product with natural variations between batches, returns based on colour are still be subject to the £150 per pack delivery and collection charge.

Damages

Whilst every effort is made to get the stone to you in perfect condition, we include an allowance of up to 2 damaged slabs per pack into the price, as an average over your order. We always use the 2 smallest damaged slabs against the allowance.

We will issue a refund for any amount above 2 damaged slabs per pack upon provision of photos showing the damaged slabs, received within 7 days of receipt of goods. It is generally advisable to allow an additional 5%-10% leeway on the amount ordered for damages or cuts or the odd slab you may not like.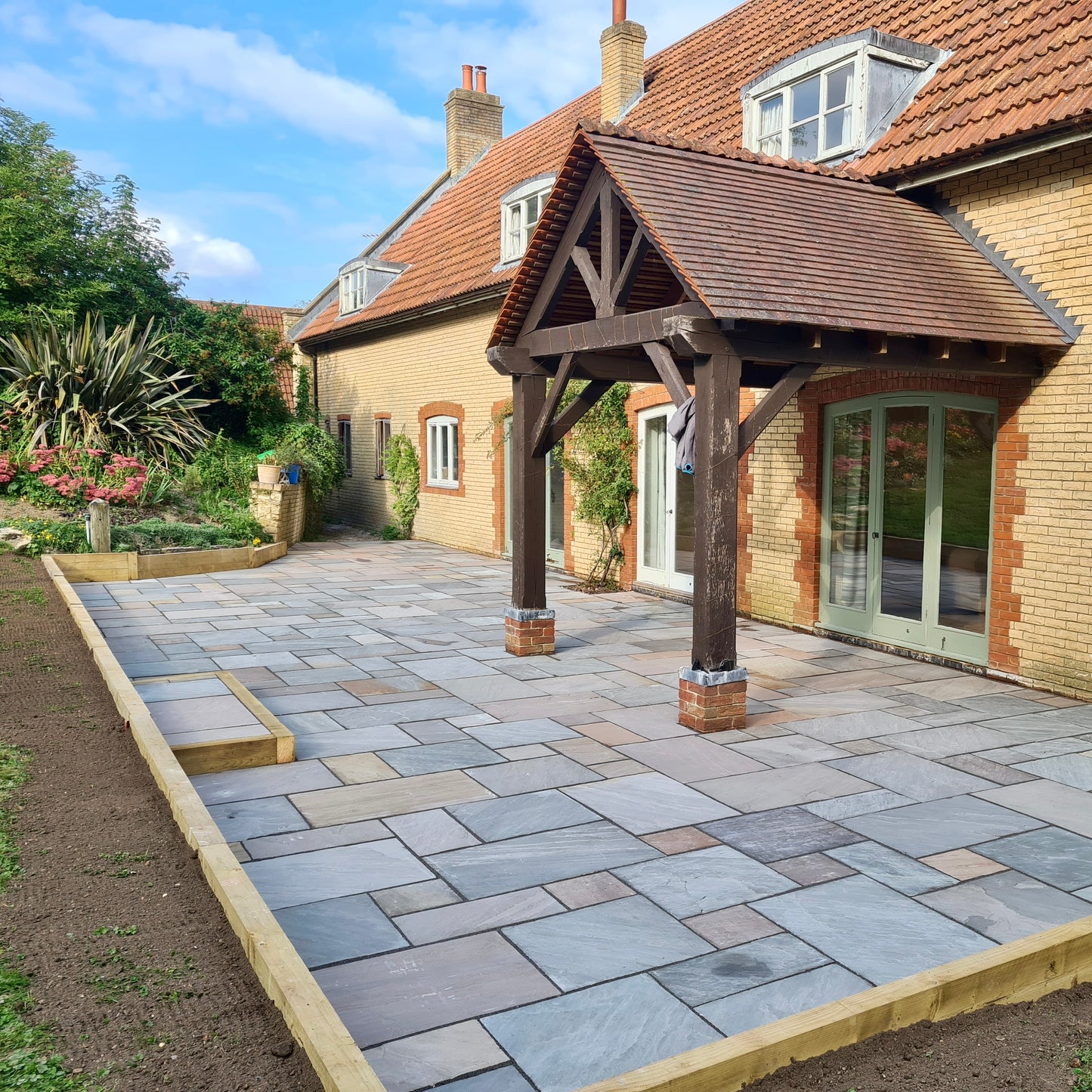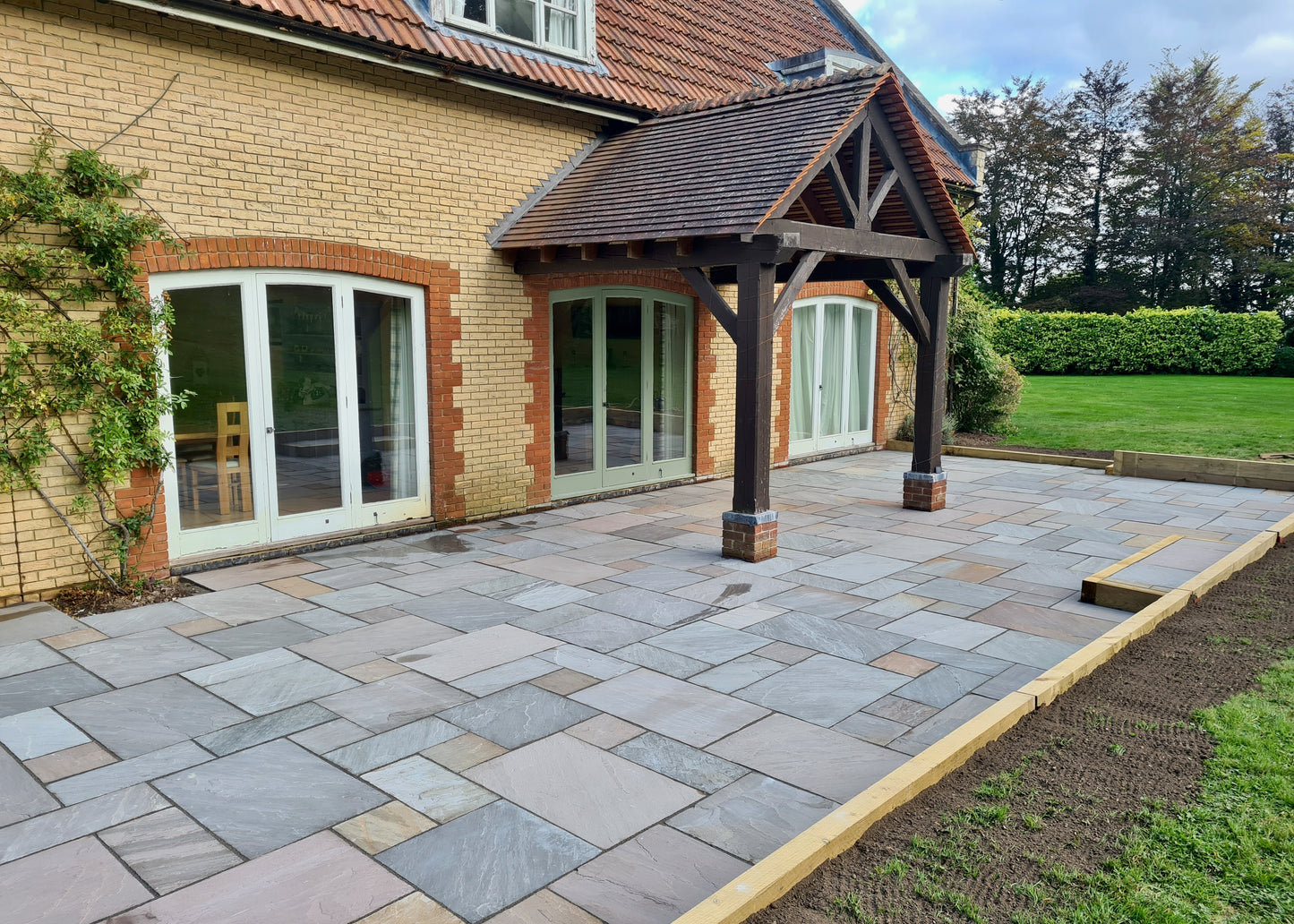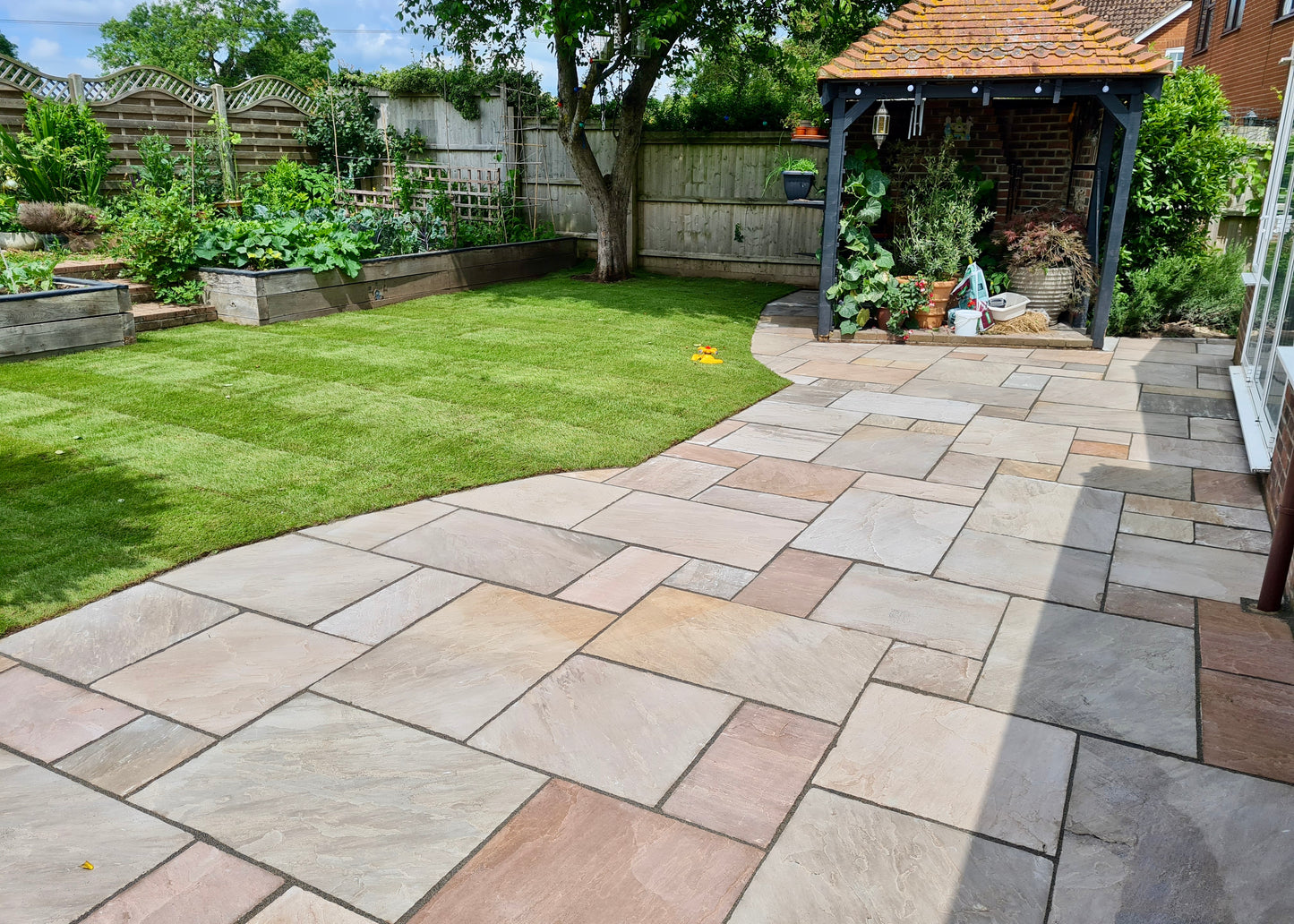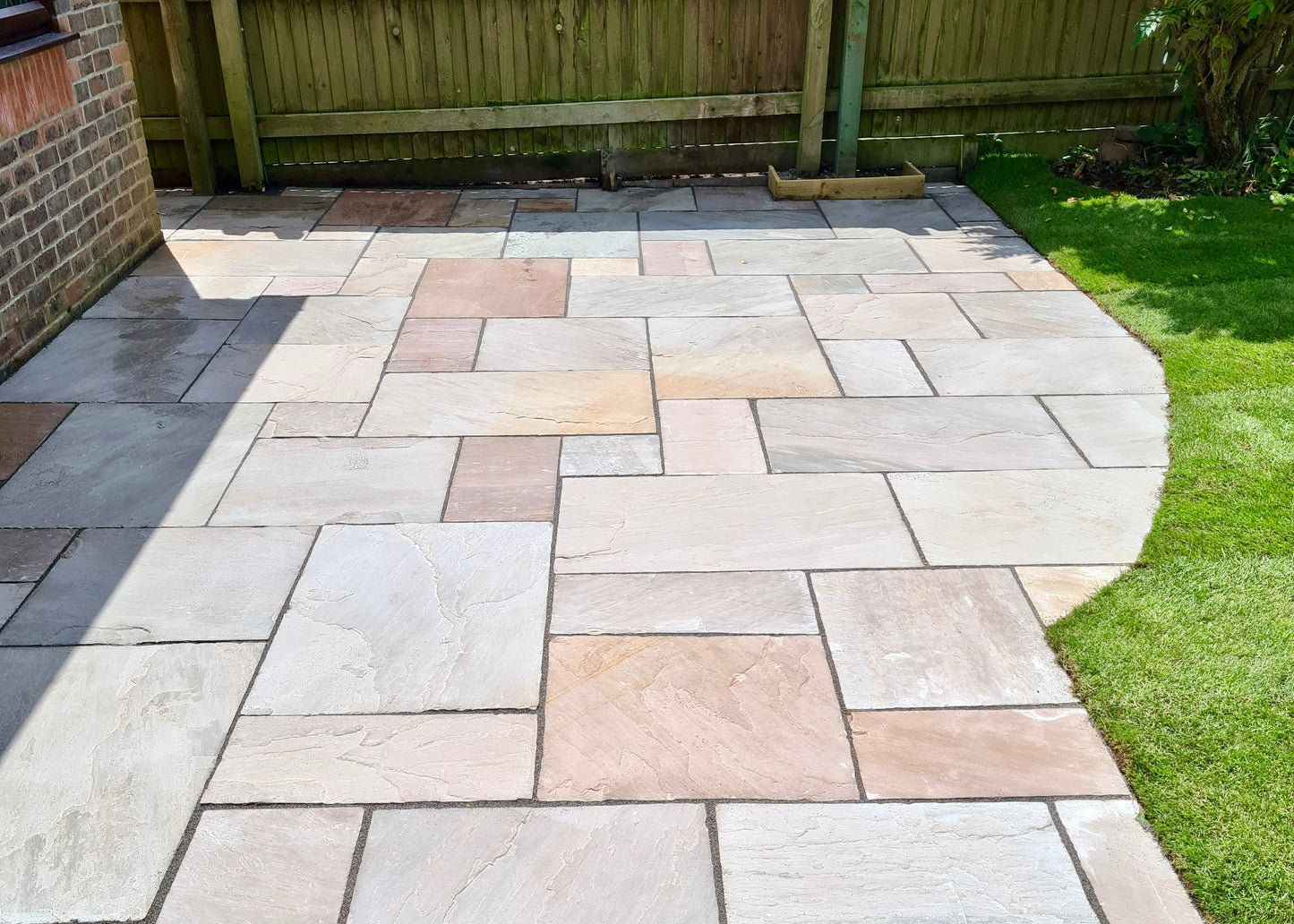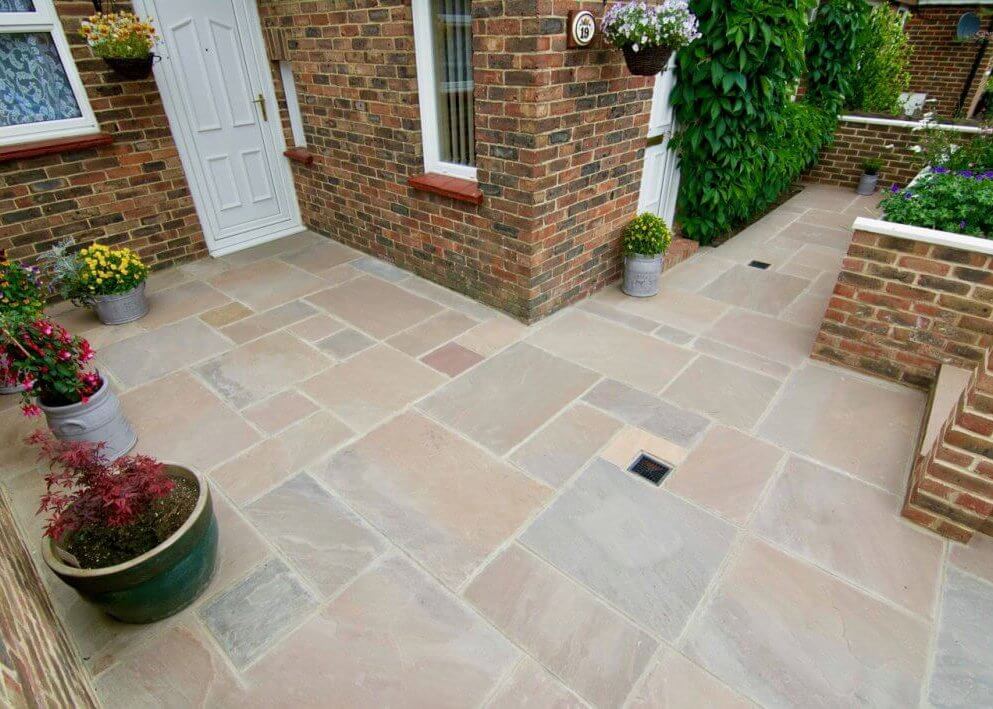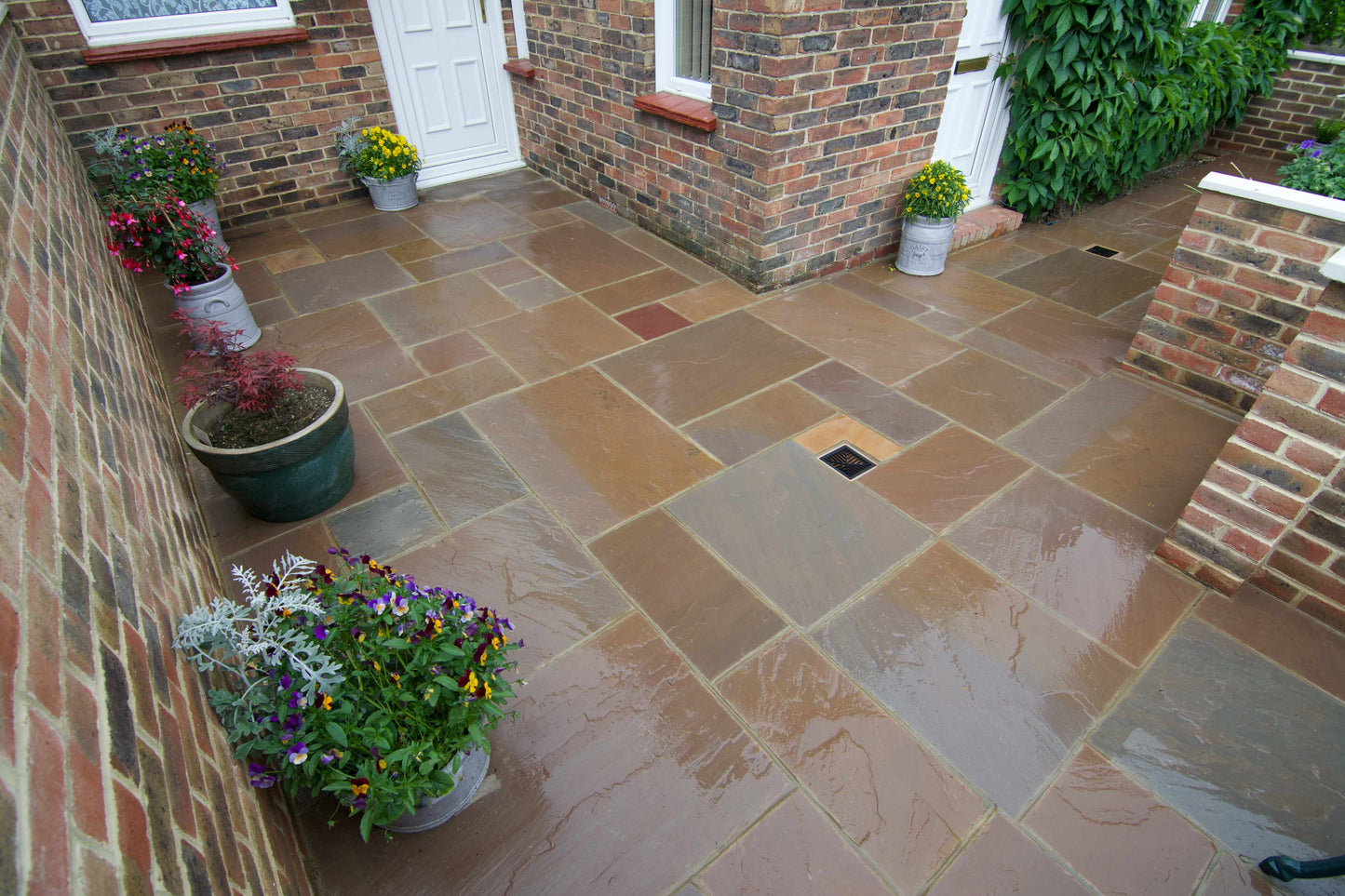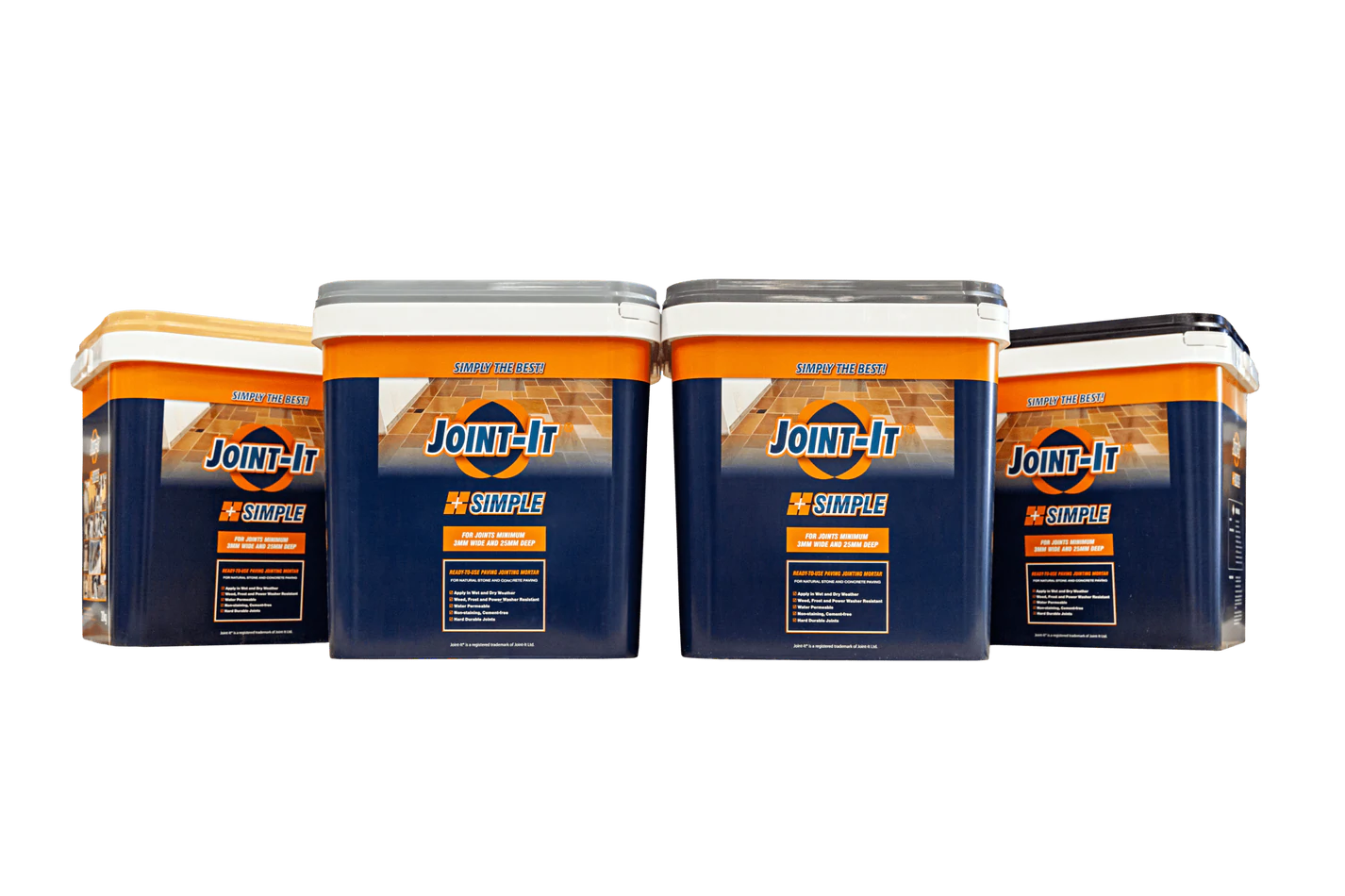 Jointing Compound
Designed for use in all weathers, replaces traditional mortars and grouts with a more modern and efficient product. Available in neutral, grey and dark grey to give you the perfect look.
Add to your order