Skip to product information
Slab Calculator
Calculate the amount of slabs you need by entering the dimensions of your floor to be covered into our Slab Calculator.
Use Calculator
Sawn Pure Mint (Ivory / White) Smooth Indian Sandstone Paving 22mm
Full packs only
Honed Mixed Patio Pack 22mm 20m²
£469.00/pack
£23.45/m²
Honed 900x600mm Pack 22mm 20m²
£479.00/pack
£23.95/m²
Honed 900x600mm Pack 22mm 12.2m² (Midi Pack)
£399.00/pack
£32.70/m²
Honed 600x600mm Pack 22mm 17.5m²
£419.00/pack
£23.94/m²
Payment options
Paypal
Apple Pay
Delivery
Free standard delivery (3-5 working days)
Express delivery (1-2 working days): £15 per pack
Description

Light up your home with this dazzling, magnificent sawn Pure Mint, also known as Ivory or White Indian sandstone. These stone slabs are a predominant blend of whites, off-whites, creams, with subtle veins and lighter pastel colours. This premium-quality White Indian stone is perfect for ultra-contemporary patios and will provide a tasteful backdrop wherever the slabs are laid. 

This stone can be honed to leave a smooth satin finish or shot-blasted to give it more texture and grip. Have it exactly as you want it. 

Other great features of this white sandstone or Pure Mint Indian sandstone include:

Sparkles slightly in the sunshine

Sawn edges perfectly complement modern gardens 

Scratch & heat-resistant 

Great for residential & commercial use

 

At Infinite Paving, we stock a wide selection of shapes and sizes be it mixed sized patio packs, large same sized slabs of 900x600mm or 600x600mm to the smaller 290x600mm sandstone paving.




IMPORTANT: Due to the porous nature of sandstone which increases when sawn, we recommend sealing all sawn sandstone paving prior to laying using an SBR bond on the underside, painted on neat and allowed to dry, to create a barrier between the sand cement mix and the slabs, and a Lithofin Stain Stop W sealant on the top surface and sides to protect against staining.
Pack Information

20m2 Patio Pack:
16 slabs 900x600mm
17 slabs 600x600mm
17 slabs 295x600mm
17 slabs 295x295mm

20m2 Single Size Pack 900x600mm:
36 slabs 900x600mm

17.5m2 Single Size Pack 600x600mm:
48 slabs 600x600mm

15m2 Single Size Pack 200x900mm Planks:
80 planks 200x900mm

11m² Single Size Pack 900x600mm:
20 slabs 900x600mm

(ideal addition to all our other Packs)

Coverage indicated when laid with a 10-15mm joint.

Thickness tolerance +/- 10%.

We recommend adding 10% coverage to allow for any cuts, damages or slabs you might want to select out.

100% natural stone paving slabs, recommended for exterior use in garden patios, paths and driveways, and interior flooring.

FULL PACKS ONLY.
ALL PRICES INCLUDE VAT AND STANDARD 3-5 WORKING DAY DELIVERY.
EXPRESS DELIVERY AVAILABLE ON CHECKOUT FOR £12 PER PACK.
Delivery information

Deliveries are made using an 18ton lorry with a tail lift. This requires a solid, concrete or tarmac flat surface for the offload. Deliveries are kerbside only, although the drivers will usually attempt to place on the driveway if possible. We cannot deliver onto a slope. Flat gravel driveways would require sheets of plywood for the wheels of the manual pallet truck to roll on. Hiab deliveries may be possible in and around London, providing a crane offload onto most surfaces.

Please ensure someone is available to sign for the delivery, otherwise you will be liable for a £30 re-delivery charge per pack if the goods are unable to be left.

Whilst every effort is made for your delivery to arrive on the day specified, it is not possible to guarantee the delivery date as we use a third party pallet network for our deliveries. Due to higher rates of driver shortages than usual, we currently advise allowing an additional day or two on top of the specified timeframes, in case of delays.

We offer standard 3-5 working day delivery or optional express 1-2 working day delivery for £15 per pack on checkout.

*Standard delivery is included for delivery to most postcodes within mainland GB apart from the following postcodes:

     £30 surcharge per pack for delivery to: AB, DD, FK(8-9, 11-21), IV, KW, KY6+, PA, PH, TR, PO30-41

     £10 surcharge per pack for delivery to: DT, TA, EX, TQ, PL, SA, LD, LL, SY(10-11, 15-25), DG, TD, KA, ML, EH, G, FK, KY, PA.

Whilst our carriers will always make every effort to deliver the products on the agreed delivery date we can not be held responsible for matters beyond our control that results in your products not arriving on the day in question. Please do not book builders or hire equipment for the day of delivery in case of a delayed delivery.  

Infinitepaving Ltd will be in no way liable to you for any loss, damage or expenses, either indirect or consequential, resulting out of the above situations or from the use of products purchased by you on Infinitepaving Ltd.
Returns and Refund information

We will happily issue a refund for any product purchased from Infinite Paving, providing we are notified within 30 days of the delivery date, and subject to the following conditions:

- the product must be returned unused and as new, in saleable condition, and in the original product packaging. Returns can only be collected if the pallets are on a concrete flat surface, or were delivered with a crane.

- you will receive a full refund of the amount paid less £150 per pack to cover the original delivery and return charges. Due to the nature of stone, being a product with natural variations between batches, returns based on colour are still be subject to the £150 per pack delivery and collection charge.

Damages

Whilst every effort is made to get the stone to you in perfect condition, we include an allowance of up to 2 damaged slabs per pack into the price, as an average over your order. We always use the 2 smallest damaged slabs against the allowance.

We will issue a refund for any amount above 2 damaged slabs per pack upon provision of photos showing the damaged slabs, received within 7 days of receipt of goods. It is generally advisable to allow an additional 5%-10% leeway on the amount ordered for damages or cuts or the odd slab you may not like.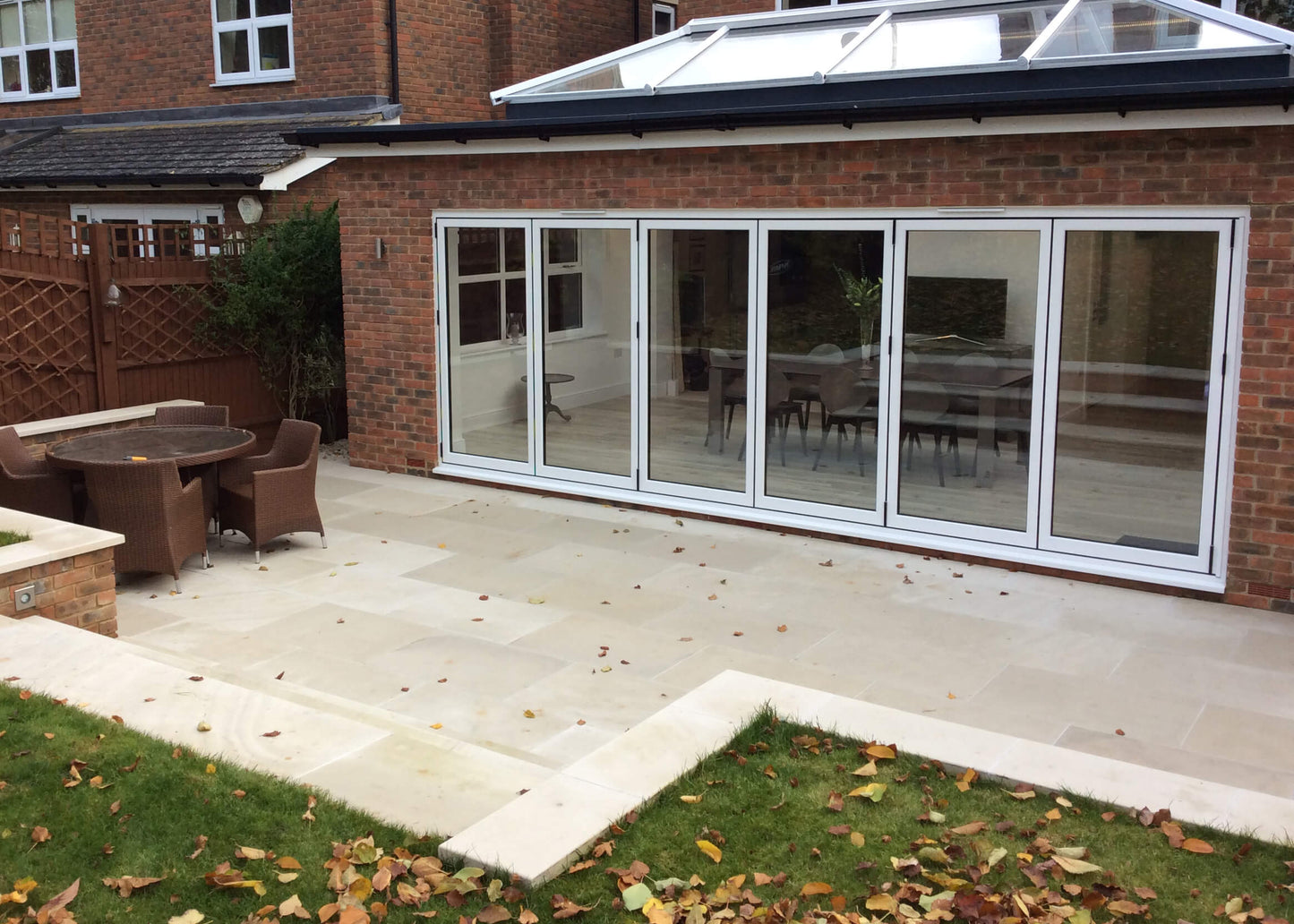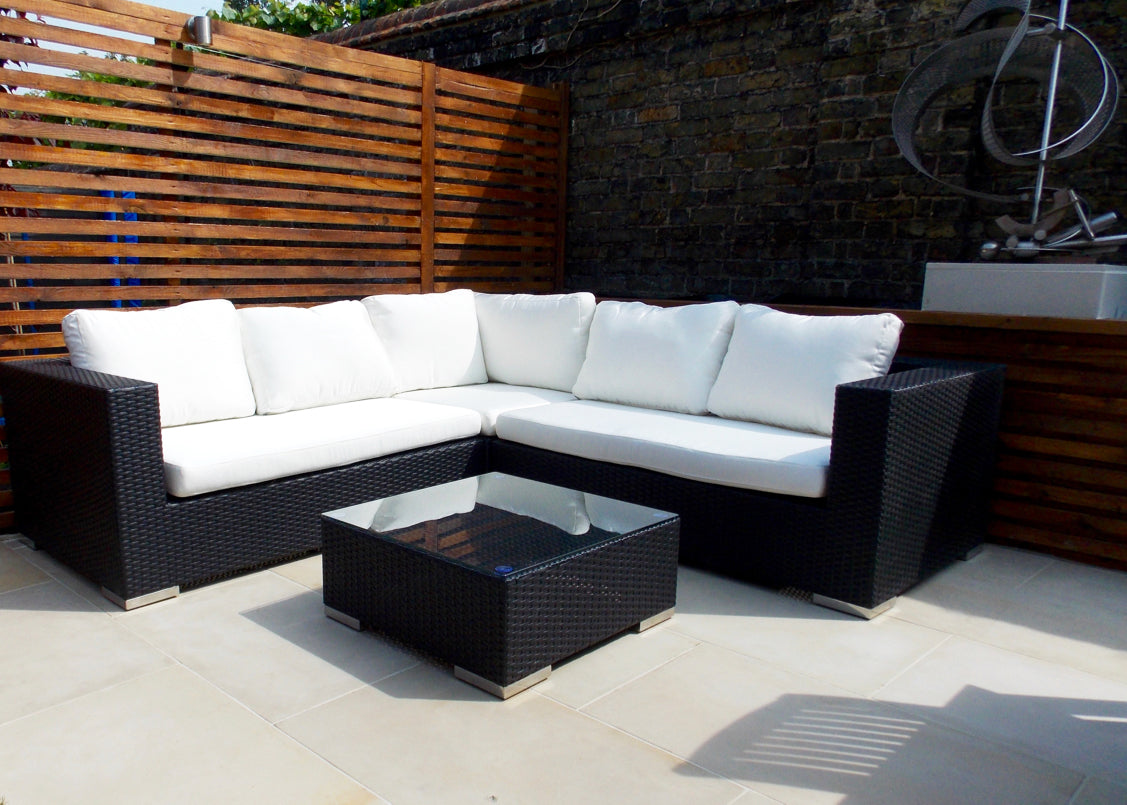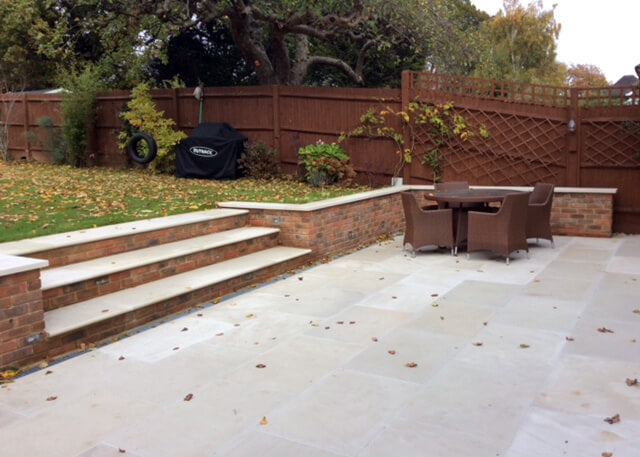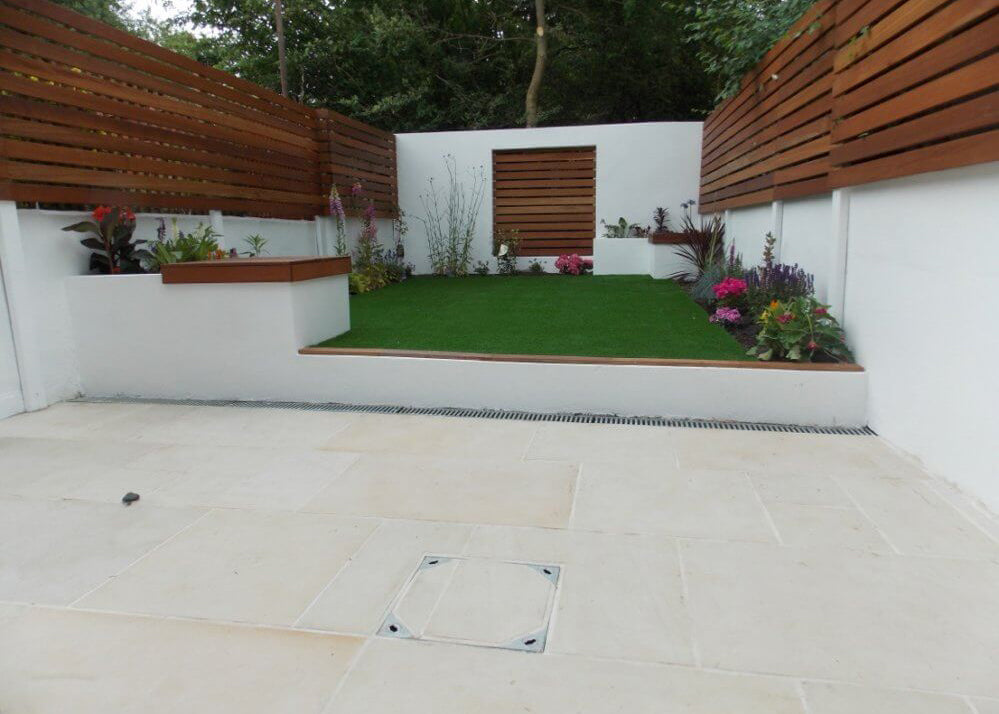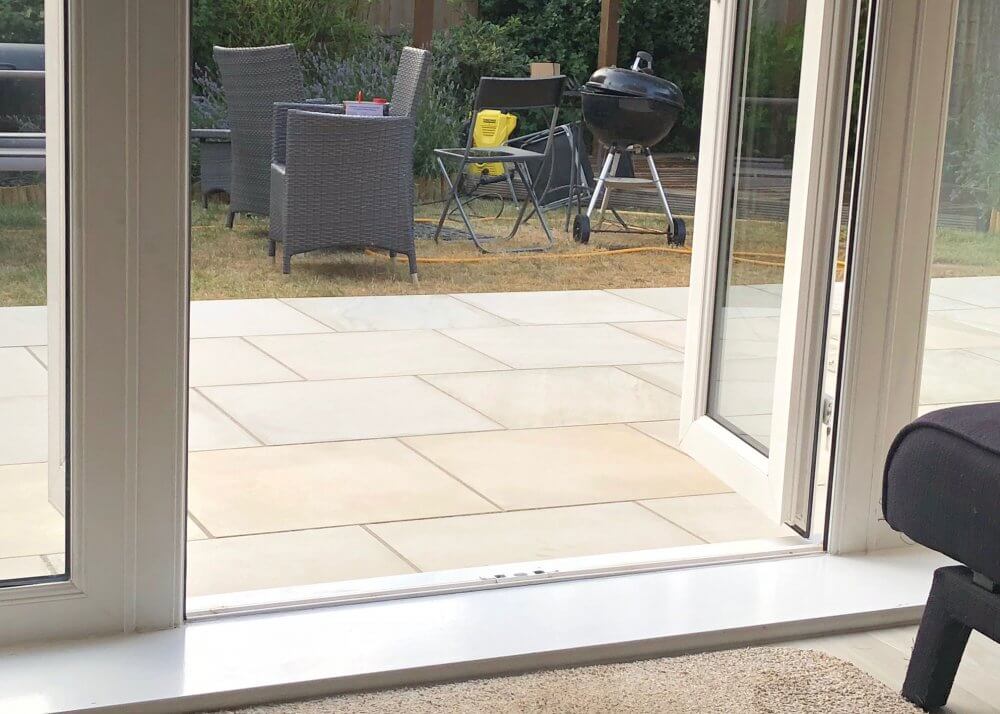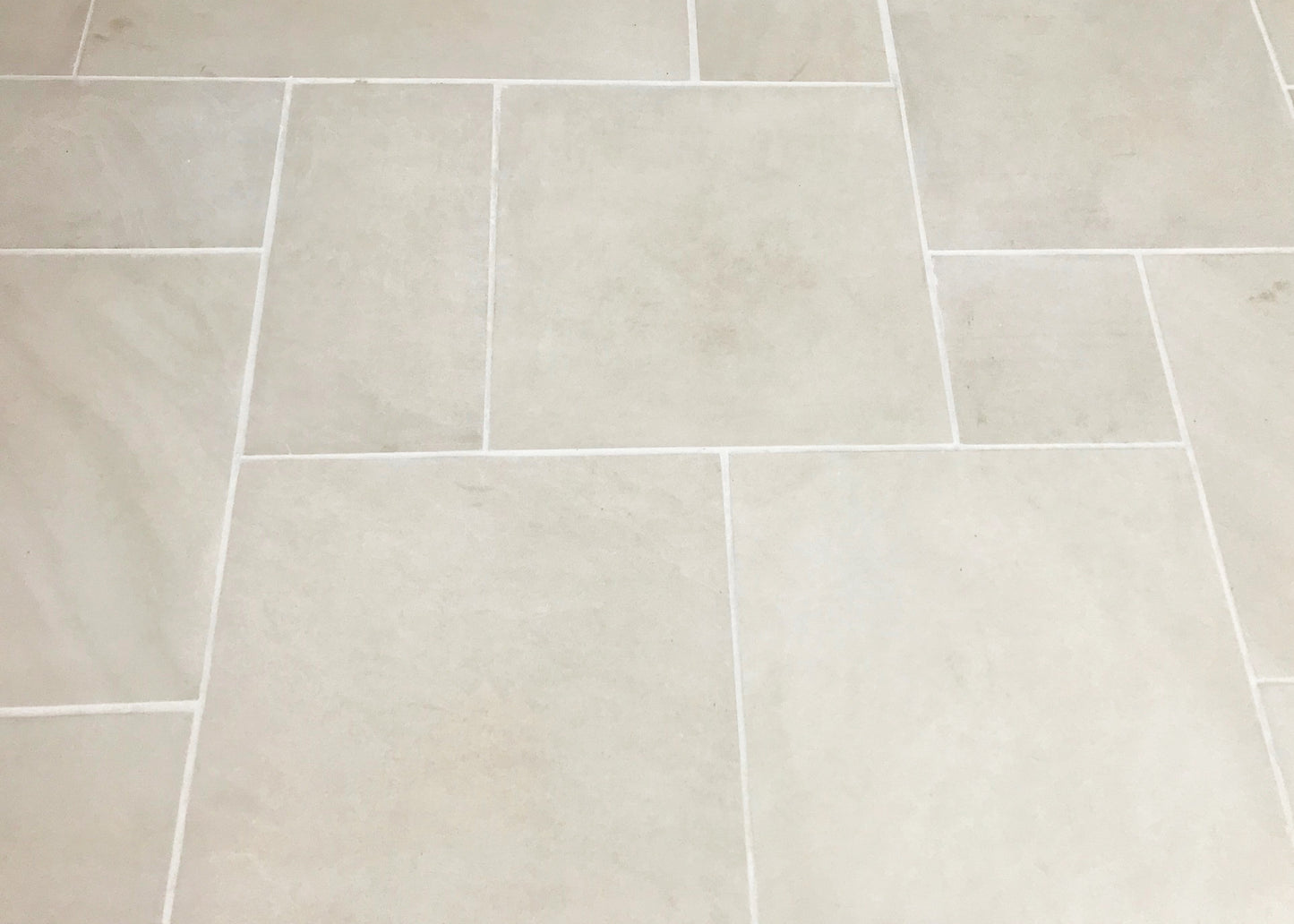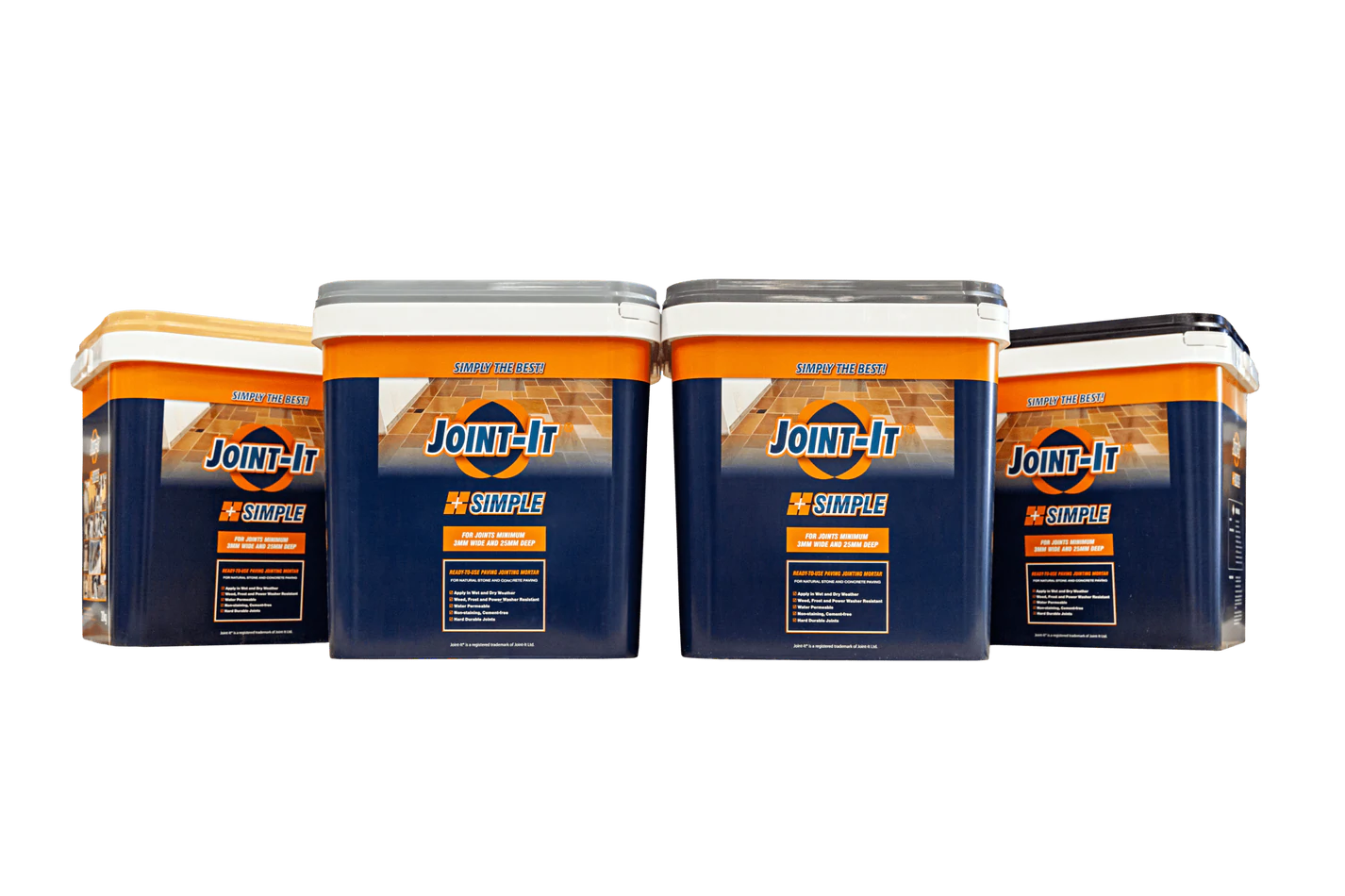 Jointing Compound
Designed for use in all weathers, replaces traditional mortars and grouts with a more modern and efficient product. Available in neutral, grey and dark grey to give you the perfect look.
Add to your order
Premium quality White Indian sandstone
Some low quality suppliers sell Pure Mint with cheaper, darker colours. You won't find that problem here. The reason our costs are so low is because we directly import all of our stock ourselves. Cutting out any 'middle-men' fees that customers are often burdened with.
Please note: We do highly recommend that you pre-seal this White Indian stone to get the most out of it.